Free Liability Release Form
To download the free Liability release form in PDF format, please click Free Liability Waiver.
---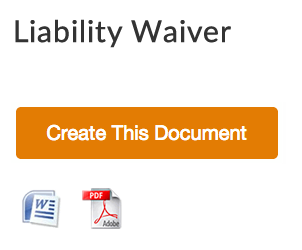 Liability Release Form is a form you can use to prevent a claim from being made as a result of an injury to someone participating in an event or using the facilities or that you or your party are hosting. Liability Waiver Form is a pre-emptive measure taken by people who have facilities or events that could potentially cause harm to other individuals using them. A great example of this would an individual that
owns a swimming pool and is hosting a pool party. The guests of the party would need to sign a liability waiver form in order to utilize the pool. By doing this way, if someone is harmed during the party or event, they have waived their rights to a law suit and can not sue you for their becoming injured. There are situations or circumstances however that liability can not be waived, for instance: someone becoming injured as a result of your negligence. Below is the free liability waiver forms for you to download.
Below is a list of liability waiver you may need. Feel free to download them if necessary.
What is a Waiver of Liability?
In case a damage or injury arises, a case can be filed against the party at fault. However, there is an exemption to that rule. That is only if a waiver of liability is signed.
A waiver of liability is a document signed by the party in risky pursuit and is being held by the other party as a protection for his right of not being sued. By signing the document, all right to blame and seek justice through legal proceedings when any further action fails is no longer possible. The waiver of liability commonly occurs in transactions with regards to surgery, bungee jumping, flying, and other dangerous acts like that.
Kinds of Waiver of Liability
There are two types of waiver of liability – the implied and express. It is implied when there is no signing involved, but it is presumed that you are already waiving your right from the start. The best example for this is when you choose to watch a baseball game, and you unluckily got hit by the ball. It is express, on the other hand, when the right is waived literally in writing and is validly recognized and signed. The best example for this is when you choose to have a dangerous operation.
The Release of Liability Form
Another term used to call the waiver of liability is the release of liability, release, waiver, or liability waiver. The names it is being called is sometimes related to the specific action or event that it will be used. The forms for the waiver are not generalized. Each establishment may make his own form of waiver. But most probably, they should have the following.
Possible Danger
The danger that can possibly happen must be disclosed on the waiver. It must be described in full even if the possibility to happen is low. The signer must be able to understand what he will be going into as well as the highest level of risk associated with it.
Signature
This is the most important part. The one at risk must sign the waiver to make it effective; otherwise, it will be of no use.
The form must be signed by one customer only. For other customers, other individual forms must be given.

Other Form of Waivers
The waiver of liability also works just like the hold harmless agreement, which applies commonly to the products or downloads. The former is just the deeper case. The best example for the latter's waiver is the ones you see on the hot choco cup served in McDonald's wherein you can see the phrase, "Caution: Contents may be hot." It is also just like the liability insurance, which waives the right to claim in return for defective or unwanted insurance.
The waivers serve as protection, but that does not mean that danger is likely to happen. Just believe that the one who let you sign the waiver will truly do his best not to provide you any injury or bring you into harm's way intentionally. No practicing professional will do that cruel thing for sure.