Contractor Liability Waiver
To download free Liability waiver form in PDF, please click Contractor Liability Waiver
---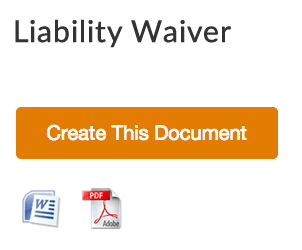 INDEPENDENT CONTRACTOR
RELEASE, WAIVER OF LIABILITY
AND
COVENANT NOT TO SUE
I fully understand that I have agreed to provide services, as an independent contractor, for 888 Production Inc. As an
independent contractor, I understand that I am responsible for all related income/self-employment taxes for fees
received from 888 Production Inc. for services provided. In addition, I acknowledge that I am solely responsible for
any medical or other costs arising out of any bodily injury or property damage sustained while providing services as an
independent contractor. I certify that I have adequate insurance coverage, including health and accident, for any
injuries I may sustain while providing said services.
I further covenant and agree that I will not sue 888 Production Inc., its successors, assigns and licensees, its advertising
agency, its producers, agents, or employees for any claim for damages, for bodily injury or other, arising while
performing services for 888 Production Inc. as an independent contractor.
I certify that I am _____ years of age and suffering under no legal disabilities and that I have read the above carefully
before signing.
This _____ day of _______________, 200__.
_____________________________ _____________________________
Signature of President Signature of Independent Contractor
888 Production, Inc.
_____________________________
Print Name
_____________________________
Social Security Number
_____________________________ _____________________________
Witness Passport Number
_____________________________ _____________________________
Print Name Address line 1
_____________________________
Address line 2
_____________________________
Phone Number
Why Do You Need Contractor Liability Waiver?
When you have a broken pipe in your home, a flooded bathroom, a leaking roof or building a new project, it is not uncommon to sometime hire a handyman or a contractor who is uninsured. Your handyman or contractor can get hurt working on your property, how do you protect yourself from liability arising from his injury? A hospital bill for a contractor can wipe you of everything you have, how do you protect yourself against such event?
Only Contractor Liability Waiver can save you from the hospital bill taking you to the cleaners.
What is Contractor Liability Waiver?
Contractor Liability Waiver is a form that you present to an uninsured contractor/subcontractor and handyman to sign before working on your property releasing you from all liability in situation where he hurts himself or got hurt working for you.
In Pennsylvania and other states of United States, it is not uncommon to see a handyman/subcontractor who has no insurance. They cannot afford it and when emergency occur; you have to bear the burden of the hospital bill. Of course in most cases, your personal insurance and your home insurance will not cover for an uninsured contractor working on your property. Your insurance company will tell you that they won't be able to save you from such situation, only your contractor liability waiver can.
Contractor Liability Waiver in Construction Contract
Insurance requirements in construction contract made provision for inclusion of contractor liability waiver that requires all the subcontractors to waive all rights against the owner and general contractor for damages arising from the work. Project owners and their contractor always insist that a subcontractor sign the liability waiver form in order to avoid being liable for injuries to a subcontractor's employee.
Who is a Contractor?
According to the California Law on "using unlicensed construction contractors", A contractor is synonymous with "builder" and, within the meaning of this chapter, a contractor is any person who undertakes to or offers to undertake to, or purports to have the capacity to undertake to, or submits a bid to, or does himself or herself or by or through others, construct, alter, repair, add to, subtract from, improve, move, wreck or demolish any building, highway, road, parking facility, railroad, excavation or other structure, project, development or improvement, or to do any part thereof, including the erection of scaffolding or other structures or works in connection therewith, or the cleaning of grounds or structures in connection therewith, or the preparation and removal of roadway construction zones, lane closures, flagging, or traffic diversions, or the installation, repair, maintenance, or calibration of monitoring equipment for underground storage tanks, and whether or not the performance of work herein described involves the addition to, or fabrication into, any structure, project development or improvement herein described of any material or article of merchandise. "Contractor" includes subcontractor and specialty contractor. "Roadway" includes, but is not limited to, public or city streets, highways, or any public conveyance.
Anyone who falls under the above definition is a contractor and you need to protect yourself when such person is working on your property. You need contractor liability waiver form any time you have a new project that you want to execute.
What To Do Before Hiring Personnel For Your Project?
Before hiring a contractor/handyman, it is only proper that you check and cross check their insurance. Even with proper assessment, your contractor may hire a subcontractor who has no insurance without your knowledge. Contractor liability insurance is the only way to save yourself from being responsible for an injured contractor/subcontractor.
Check your homeowner's policy for details concerning injuries on your property before beginning any project. Policies can vary widely. According to Jack Smith of GEICO Insurance Company Pennsylvania, you need to properly check the personal liability section of your homeowner's policy for details about contractor injury on your property.
Ask your contractors/subcontractors to show real proof of their medical coverage before working on your property. You should also ask them to sign your liability form which will clearly indicate that they will maintain their medical insurance during the entire work period.
Although a third party such as the hospital can sue you for hiring an uninsured worker in the first place, however, with contractor liability waiver, your subcontractor can sue for some injuries. In case of major injury, there are limits to which liability waiver can provide cover for you. A liability waiver does not mean that the injured contractor can't sue for a major injury. The court may allow the liability waiver to stand in case of minor injury but when there is a major injury to the subcontractor, the court may throw it away.
The bottom line? Always make sure you hire a duly insured contractor for your project and have a section in your contractor's contract that compels all subcontractors to sign liability waiver. This way, you can save yourself from insurance headache.
How to Prepare Contractor Liability Waiver Form?
Do you need a contractor liability waiver form? You can have GEICO Insurance Company prepare and fully interpret your contractor liability waiver for you. They will let you know what exactly the waiver is covering; you will know what your contractor can sue you for and how to protect yourself properly from the liability. A stitch in time saves nine. Contractor liability waiver can protect you from losing thousands of dollars in lawyers, and hospital fees. With GEICO commercial coverage, both the project owner and contractors can receive adequate protection from liability in case of damages to a subcontractor.
You can't always control your builder's safety habits but you can equip yourself with the ability the liability you will assume in case of any eventuality.